Bear & Son Cutlery Growls Deep Within The Heart Of Dixie.
While the majority of cutlery manufacturers are clustered in the northeastern and northwestern states of this great country, there's one in the sunny south growling to be heard. Bear & Son Cutlery holds this distinction and, unlike many of their peers, all of their knives are made with pride right here in America. The Jacksonville, Ala., cutlery factory was previously owned by noted old-time cutlery manufacturer W.R. Case & Sons, which found itself facing bankruptcy in early 1990. Thanks to a little entrepreneurship and determined effort, a young man named Ken Griffey didn't want to see it die.
"I started 38 years ago in Chattanooga, Tenn., working for Parker Cutlery in shipping and worked up to sales and VP," Bear & Son President Ken Griffey tells us. "The bankruptcy of W.R. Case and the factory in Alabama was a terrible time for the employees and the communities."
"We started the company — myself, Herman McIntosh and Greg Cook — in 1991. We came up with the name 'Bear' because the bear is the king of North American animals, and we're also an Alabama company where Bear Bryant is still very respected. The original company was Bear MGC, but when we (the Griffey's) bought the company back in 2004, we changed the name to Bear & Son. My wife and son work here — it's a family business."
Once a fledgling cutlery manufacturer rising from the ashes, Bear & Son is thriving 38 years later, keeping a full-time crew of 82 employees busy producing a wide range of knives and tools. The Bear & Son management and supervisory team has over 210 years of experience from a myriad of cutlery's legendary names, including Gerber, W.R. Case, Buck, Parker Edwards and Schrade.
Bear Ops Constant II
Bear Ops Rancor Tactical Folder
Old Meets New
Much of Bear & Son's early years were spent carrying on the tradition, manufacturing those wonderful old-time pocketknives on which the Case factory built their reputation. They knew the market well and had the local workers to get the job done. Their traditional folders weren't, however, knockoffs of Case knives. Bear & Sons folders have always had a slightly crisper look to their handles and blades, a trait Griffey and his associates may have picked up from the Parker days. To this day those same characteristics are highly evident in their pocketknives. Here you'll find all the old standards — from Stockmans and Trappers to Lockbacks and Sodbusters.
The Stag Horn series is guaranteed to warm the cockles of those who appreciate the high-end pocketknives of yesteryear. These knives feature genuine India Stag handles in a myriad of traditional patterns such as the Muskrat, Trapper, Toothpick and Stockman. The Blue Jean series features thoroughly modern G10 handle scales topping off a variety of patterns. The Rancher model is a blend of old and new; a Trapper model with a locking-liner. The Large Stockman is a 3-blade workhorse measuring 4″ closed in the classic design. Both feature 440C stainless steel for rust resistance and easy care.
If you want to go even classier, Bear & Son offers a series of fixed-blades and folders with Damascus steel blades teamed up with jigged Stag Horn handles. In fact, Bear & Sons offers more Damascus steel knives in the line than any other American manufacturer. According to Griffey, "Damascus steel has been associated for years with quality and value — and it continues to grow for us. All of our Damascus is American-made and we use three vendors to keep up with our customer demands." The fixed-blades range in size from large Bowies to smaller skinners. Folders can found in a range of designs, from traditional patterns such as the Trapper and Lockback to more modern fare with 1-hand opening blades.
Blue Jeans Series Rancher (top) and Large Stockman (bottom)
Modern-Day Bite
While Griffey is fond of Bear & Son's traditional knives, he is equally proud of the company's modern-day tactical offerings. "We sell a lot of traditional knives — and that's very important — but we also offer a lot of new, high-tech knives in the Bear OPS military and police line," he said.
The Rancor tactical folder is a case in point. This folder features a 2.8″ modified drop-point blade made of top-shelf CPM-S30V steel and a curvaceous machined aluminum handle (4.4″ closed). A high-tech pattern is machined into the handle slabs for added grip and all-around good looks. From there you can upgrade to machined G10 handles and an all-black blade, or go over the top with a high-definition Damascus blade and checkered Cocobolo wood handle.
The Constant II Survival fixed-blade would be right at home in your favorite Black Ops movie. At 9.4″ overall with a 4.4″ modified clip-point blade, the all-black Constant II features 1095 high carbon steel (preferred by many military users for its ease of sharpening in the field), a textured G10 handle, a grippy notched steel thumb ramp on the blade's backside and an amply-sized lanyard loop on the base. A jump-ready Kydex sheath with lashing points rounds out the equation.
In addition, the company offers folding balisong-style butterfly knives. These are offered in a wide variety of handle designs, including everything from plain to patterned handles — some with genuine Stag scales. These come in an excellent variety of blade styles including clip-point, Tanto, dagger and trainer. And, you bet, Damascus blades are available to boot!
Genuine India Stag Damascus Trapper
Remington Large and Small Lockbacks
India Stag Bone Damascus Pro Skinner
Remington Connection
Remington shooters will be interested to know Bear & Son recently signed a contract with the noted firearms manufacturer to produce private label knives. According to Griffey, "We signed a deal with Remington Firearms to be the exclusive cutlery manufacturer for them and we are introducing a whole new line of USA products. We'll keep marketing the Remington China goods also." In the line is a pair of Lockback folders sure to please. Named after popular Remington models, the 870 and 700 Lockbacks feature deep brown Walnut laser-engraved handles sporting the Remington "R" logo and model number.
What's on the horizon for Bear & Son? "We'll continue to expand our growing line of Bear OPS tactical knives as well as introduce new designs. In addition, we'll be creating new American-made knives for Remington. We fully expect all of this to generate substantial growth for Bear in the year ahead. We have a new 76-page catalog we introduced at the SHOT Show."
This Southern bear is on the prowl!
By Pat Covert
For more info: https://americanhandgunner.com/company/bear-son-cutlery-inc/ or Ph: (256) 435-2227.
Order Your Printed Copy Of The American Handgunner July/August 2015 Issue Today!
Download A PDF Of The American Handgunner July/August 2015 Issue Now!
We think you'd be interested in this, too
Tactics and...
---
Move, Communicate, Use Cover, Shoot — if necessary — and Think. These are the fundamentals of responding to a threat.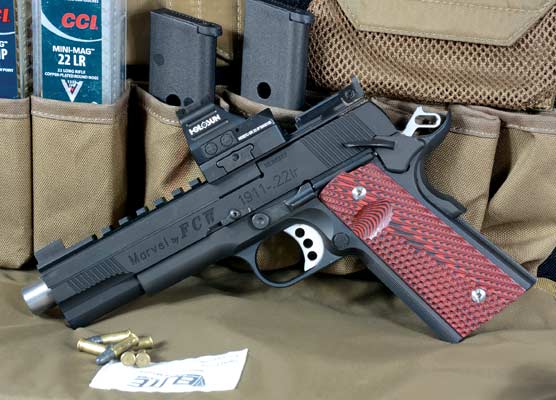 There's A Lot...
---
The .22 conversion is almost as old as the autopistol itself. Shortly after the adoption of the 1911, Springfield Armory began experimenting with ways to...
Numbers Good And Bad
---
The Trace is a publication financially supported by anti-gun billionaire Michael Bloomberg, and as the New Year began unfolding, it provided some...