Remington Knives Jackknife
By Mark Kakkuri
Call it old school or traditional, there's just something about a well-made, good-looking jackknife you open with two hands. Let's face it: Not every cutting task around the house requires a full-tang field knife nor a full-sized, assisted-opening folder springing its serrated edge into action with a snap. Those knives have their place, of course. But classics like this Remington Jackknife are handy all of the time and travel easy in a pocket. Plus they make great gifts and keepsakes, especially when there's a limited run. In fact, Remington Knives will offer only 5,000 of these little beauties.
Featuring blades made from 440 Stainless, the Jackknife offers a 27/8″ spear point and a 15/8″ pen blade — probably enough cutting power for 95 percent of the reasons you carry a knife. The blades include an etching commemorating Remington's 200th anniversary and are tucked away in a 31/2″ handle made from Green Jig Bone with brass liners and nickel silver bolsters and pins. Overall weight: 3.2 oz. And did you see the Remington cartridge shield embedded in the handle — a classic Bullet knife! It all adds up to good-looking, functional and historical.
Retailing for $115.99, made in the USA, and featuring a lifetime warranty, this is no beater or toolbox knife. Rather, this is something you give as a special gift — perhaps to a grandson or granddaughter or a good friend — to demonstrate both utility and beauty as well as to pass on a little bit of history. And, if you need one a bit larger than the Jackknife, Remington Knives also offers a Trapper with a 33/4″ clip blade and a 33/4″ spey blade folding into a 51/4″ handle made from Amber Jig Bone. For more info: https://americanhandgunner.com/company/remington-arms-co-llc/
Download A PDF Of The American Handgunner March/April 2016 Issue Now!
We think you'd be interested in this, too
Tactics and...
---
Move, Communicate, Use Cover, Shoot — if necessary — and Think. These are the fundamentals of responding to a threat.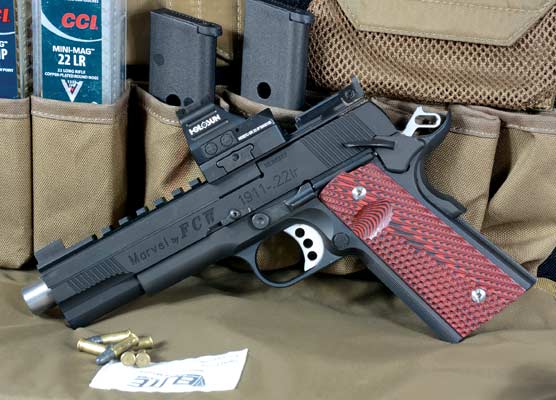 There's A Lot...
---
The .22 conversion is almost as old as the autopistol itself. Shortly after the adoption of the 1911, Springfield Armory began experimenting with ways to...
Numbers Good And Bad
---
The Trace is a publication financially supported by anti-gun billionaire Michael Bloomberg, and as the New Year began unfolding, it provided some...