Can You Make Your Own Knife Sheath?
You Bet
By Tank Hoover
Does your sharpened steel need some skin? You've come to the right place. Welcome to "Tinkering with Tank" where I'm going to show you how easy it is to put some hide on your huntin' blade, whether a newly made skinner or old guy gutter.
The fine folks at KnifeKits.com supply everything you need to make yourself a fine fitting Kydex sheath. They also do great knife kits (more on that later). Relax! If I can do it, you can too! I guarantee it!
Here We Go
Cut your Kydex so you have at least a 1″ border around the shape of your blade. Using a straight edge, cut your Kydex with a utility knife. Make a few cuts, then bend the Kydex and it will break on the scored cut. You'll need two pieces.
Using painters tape, put three layers of tape on both sides of your blade and trim with your utility knife. This provides some space so you will be able to pull your knife out of your sheath. I made the cool skinner in the pics from a kit from knifekits.com and we'll cover that later.
Also, use a bamboo skewer to make a drain hole for your sheath. Cut a piece about 3″ long and split one end about 3/8″. Use the split-end to clamp on the knife tip.
Pre-heat your oven for 325 degrees and place your Kydex sheets on parchment paper. Set timer for
seven minutes and bake your Kydex.
After seven minutes, your Kydex should be soft, supple and easy to bend. Using gloves, quickly place you first piece of Kydex shiny side up, then your knife, then the second sheet of Kydex, shiny side down. Make sure the sheets line up, the skewer stick is sticking out the bottom edge, then close your press and clamp it tight for about 10-15 minutes.
Now we need to mark holes for drilling. The holes will be ¼-" from where the flat starts from the perimeter of the blade, spaced every 1.5″. Use a brad point ¼" drill bit and drill your holes. Rivet the bottom two holes and remove your knife.
Now install all your rivets, making sure you put the rivets in from the same side for uniformity.
Admire Things
When rivets are installed, take a sip of coffee and look at your work. You will see a knife sheath starting to develop right before your eyes!
Setting rivets is fun and easy using the rivet setter dies. Line them up and tap, tap, tap till you feel the dies seat.
Now the fun really begins! Use a pencil and rough-trace the final shape you want for your sheath.
Use either a coping saw or band saw and trim the excess Kydex sheath. Things are really shaping up.
Now use a Dremel tool, belt/disc sander or simply sandpaper and final-shape those rough edges. Work it till you're satisfied!
After final sanding and smoothing, you'll have a rock-solid sheath to protect your blade! You can just barely make out the outline of the drain-hole, should water get in your sheath.
I'll carry this Artic Skinner in my back pocket or backpack, so I'm not going to add an attachment loop or hardware.
KnifeKits.com has several options to attach hardware to secure your knife sheath to your belt, harness or 4-wheeler. Or go the survivalist route and use para-cord to attach your favorite chopper or cutter.
Wasn't that fun? We'll be doing a Kydex holster next since we have all the equipment! The knifekits.com guys are great and the tools and materials are all first-class. Reach out and get going on your own knife, sheath and holster projects. I think I may have a new hobby!
For more info: www.americanhandgunner.com, Ph: 877-255-6433.
Check Back Each Wednesday For More Think Tank Articles
We think you'd be interested in this, too
Tactics and...
---
Move, Communicate, Use Cover, Shoot — if necessary — and Think. These are the fundamentals of responding to a threat.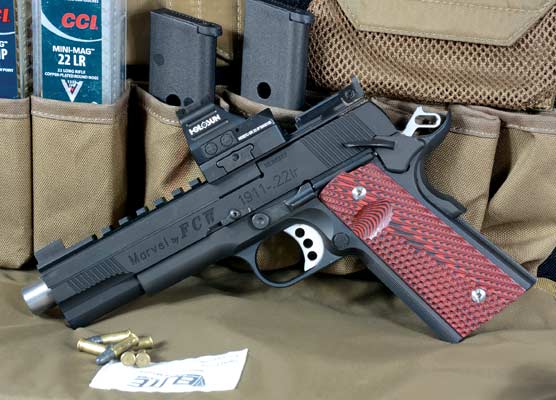 There's A Lot...
---
The .22 conversion is almost as old as the autopistol itself. Shortly after the adoption of the 1911, Springfield Armory began experimenting with ways to...
Numbers Good And Bad
---
The Trace is a publication financially supported by anti-gun billionaire Michael Bloomberg, and as the New Year began unfolding, it provided some...