By Tank Hoover
When I first met Dick Thompson over the Internet, besides being a sixgun hunter, he was also a pretty good camp cook. Dick's utensil of choice was the ageless Dutch Oven (DO), a cast iron contraption with lid. You can cook anything in a DO and it usually turns out pretty good.
One of the first dishes I learned to make from Dick was his famous "Sixshot Taters." Being from Idaho, it was a natural! Dick, along with his sidekick, Callshot, has sent me numerous flat-rate boxes of Idaho spuds and I usually just bake them, they are so good.
But every now and then we need to treat ourselves to something out of the ordinary and make something extraordinary! Now this recipe isn't for the faint of heart! It's a high energy, rib-sticking food perfect for those cold winter nights. These taters are a great comfort food and will warm your soul the whole night.
Here's a welcomed sight! A fresh batch of Idaho taters shipped from my buddies!
Here's some ingredients. Feel free to add or subtract what you like! Remember, these are for your tastes, not mine!
Sixshot Taters
Depending on how large your herd is will depend on how many taters you plan on fixin'. When it's just my wife and I, I'll use 4 spuds, as I enjoy eating leftovers and will stretch this out for two or three more meals or side dishes for me. So here's my version of heaven:
4 large baking potatoes
4-6 slices of bacon
½ stick butter
½ large onion, diced or dried flakes
Johnny's seasoning
One, 8-ounce bag of shredded cheese, your choice
Here's your bacon ready to be fried. Is there anything better in the kitchen?
Butter makes a close second! Get it good and frothy as it mixes with the bacon grease!
We're getting close! Taters are chunked, butter melted, bacon cooked, my salivary glands secreting … MMMMM!
Season to taste — for you! I admit I picked up the green chiles habit in New Mexico. I put them in just about everything, cornbread, chili, taters you name it! The cheese and bacon will come soon. Stir those spuds in that butter/bacon grease gravy and get them coated real good for their bake in the oven.
When I make larger batches, usually double, I'll use my DO, but for this size batch, a 12″ skillet will work. Cut your raw bacon into 1″ pieces and fry them. While they're frying, wash and cube your spuds and soak in cold water to remove starch. If you're in a hurry, you can microwave them for 6-8 minutes to speed up cooking, otherwise you'll just bake them longer in the oven.
When bacon is done, place on paper towel. Keep that grease in the skillet or DO and add your butter to it. Over low heat, add your chunked taters and onion, while seasoning to taste with Johnny's Seasoning, garlic powder and pepper. Stir your spuds/onion until well coated.
Cook at 350 degrees for about a half hour, or until soft enough for you. Sometime I go longer for crispy spuds.
Cheese and bacon added and into the oven for 15 minutes. We're almost there!
Ooohhh baby!!! Wish you could taste this! Well, I gotta go! See you all next week, mmph, mmm, chew, mmm….
Now bake in the oven at 350, until you can easily stab your taters with a fork. Sometimes I'll cook a little longer until the taters crisp up some. It's your choice! When you're happy with the taters, remove from the oven and add your cheese and bacon.
Bake for another 10 minutes, until cheese is melted. As Sixshot says, when they're done, watch out! A stampede of hungry people will be coming soon!
Leftovers keep very well and they are great heated up by either microwave or oven. Whether main course or side, you'll enjoy this easy making dish. I know I do.
And around midnight, some of you just might hear the real reason these spuds are called "Sixshot Taters" as the gunfire starts under the covers. Told you they'd keep you warm.
Be sure to check out Tank's write-ups in American Handgunner Magazine on this gun and the Ruger Blackhawk 10mm/.40 S&W, also a Lipsey's exclusive, in the near future.
Check Back Each Wednesday For More Think Tank Articles
We think you'd be interested in this, too
Tactics and...
---
Move, Communicate, Use Cover, Shoot — if necessary — and Think. These are the fundamentals of responding to a threat.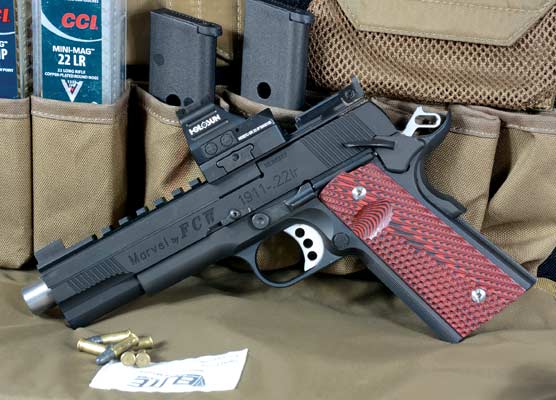 There's A Lot...
---
The .22 conversion is almost as old as the autopistol itself. Shortly after the adoption of the 1911, Springfield Armory began experimenting with ways to...
Numbers Good And Bad
---
The Trace is a publication financially supported by anti-gun billionaire Michael Bloomberg, and as the New Year began unfolding, it provided some...